VR Together
3 Seats Motion Cinema, Brand-new VR Entertainment Solution for family
Owatch 9D VR Together Motion Cinema
New Arrival! Brand-new Design, Small footprint & High ROI, First choice for Family Entertainment!
Eye-catching is always the most important factor for the succeed of VR business. With our minimalist and distinctive design, hundreds of high quality 360 degrees content, VR Together should be the first choice for your VR business.
Owatch VR Together Cinema with Immersive 360º Games
VR Together Cinema, A Cost-effective But Fast Return 9D VR Simulator For Your VR Business.
Through the virtual reality system, you can feel the realism of "being there". Break through space, time, and other objective constraints, and experience what's impossible for you in the real world. It allows users to see and feel in a three-dimensional space with timely and unlimited 360° panorama, and the fun is endless!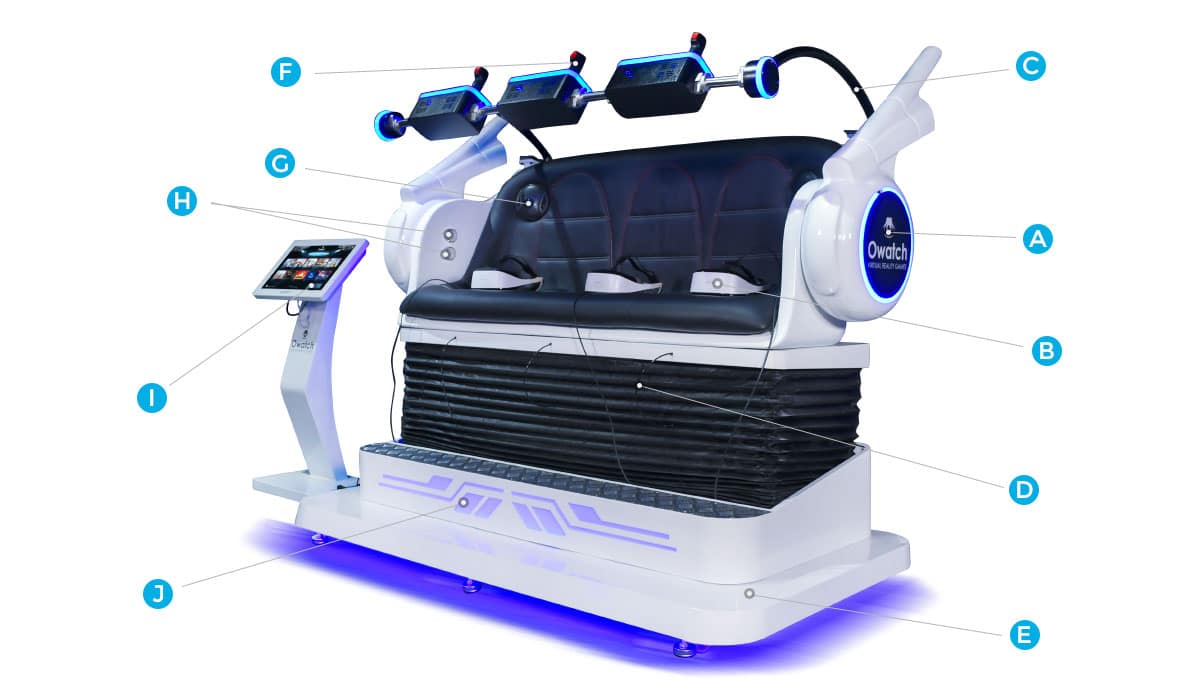 | | | | | |
| --- | --- | --- | --- | --- |
| A: Logo Area Changeable | B: VR Headset | C: Roller Coaster Safety Bar | D: Leg Sweep | E: Metal Base |
| F: Shooting by Button or Joystick | G: Hi-Fi Speaker | H: Up and Down Buttons | I: Touch Screen Game Control Panel | J: LED Light |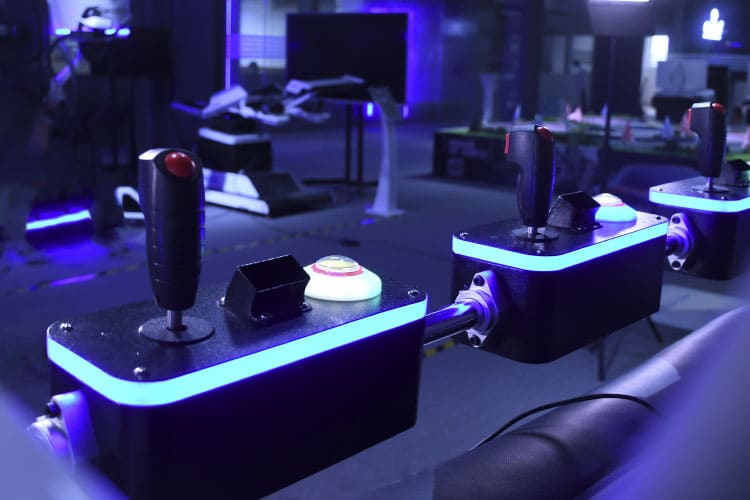 More New Ways To Play
The creative design with movable joystick allows player to control direction in the games. Shooting enemies by hitting the big round button or pressing button on the joystick, more devoted and more excited during playing.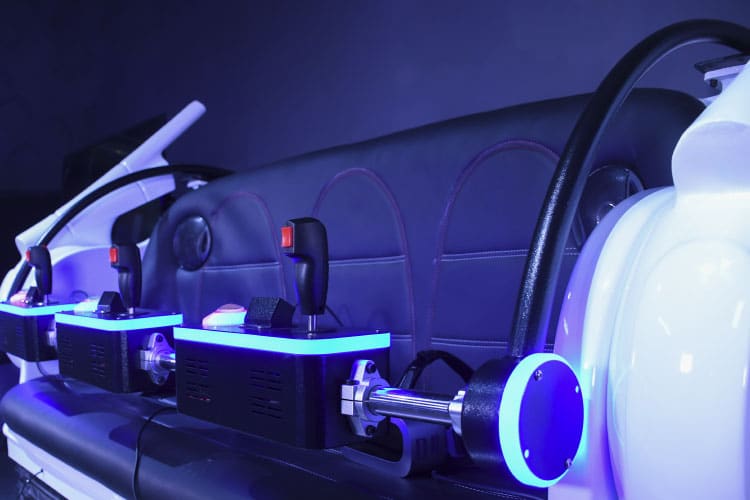 Roller Coaster Safety Bar, More Immersive
Roller coaster
contents are always the most popular. Owatch VR Together's distinctive design with roller coaster safety bar makes you feel more immersive and put you personally into the scene while playing. Electric control lifting safety bar, control up or down by long pressing the buttons.
Dynamic Platform & Diverse of Special Effects
3-DOF dynamic platform, highly matched VR content, full experience the exciting movement in the virtual reality world. Special effects of vibration, back poke, leg touch and air jet, also the virtual environment in the content, bringing players a new way of gaming and entertainment. It will be an unprecedented experience!
Owatch 9D Virtual Reality Simulator/Cinema
MAX 9D Experience, VR Motion Simulator
Exciting visual perception, realistic scene simulation, exciting plot experience. Three players can experience the game at the same time, very suitable for the whole family to play together.
DPVR E3 VR Headset / All New Version
2K Eye-protective LCD Screen ( 2560×1440 / 70Hz )
High-grade Fresnel Lens
110°FOV & IPD Adjustment ( 54-74mm )
Low latency Low afterglow No dizziness
Ergonomic & Adjustable head strap Design
Compact and Lightweight ( 305g only )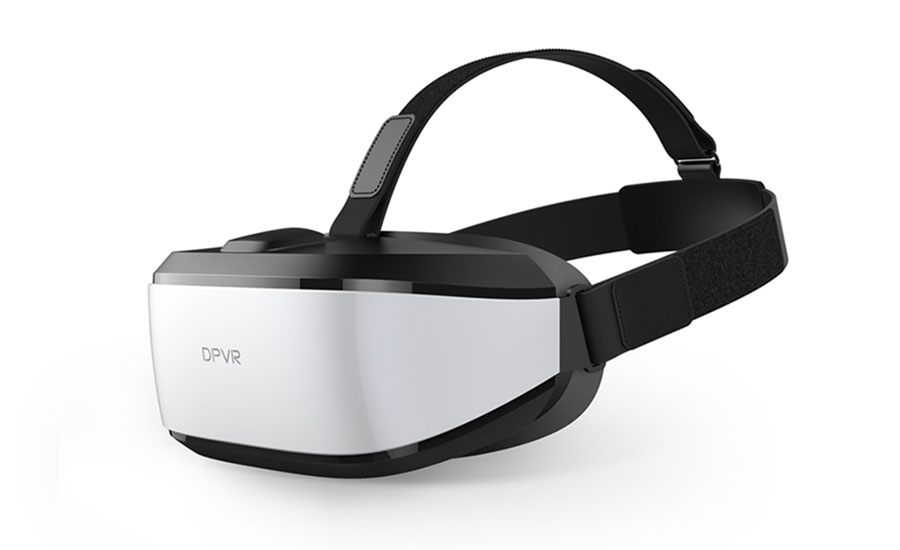 Owns More Than 100 VR Games & Movies
All 360º Panoramic: Large pendulum, Children's, Roller coaster, Thrilling, Racing, Shooting, Dinosaur, Adventure, others… More Choices, More Fun! covering different types, all ages and different interests Player! Continuously updated every year …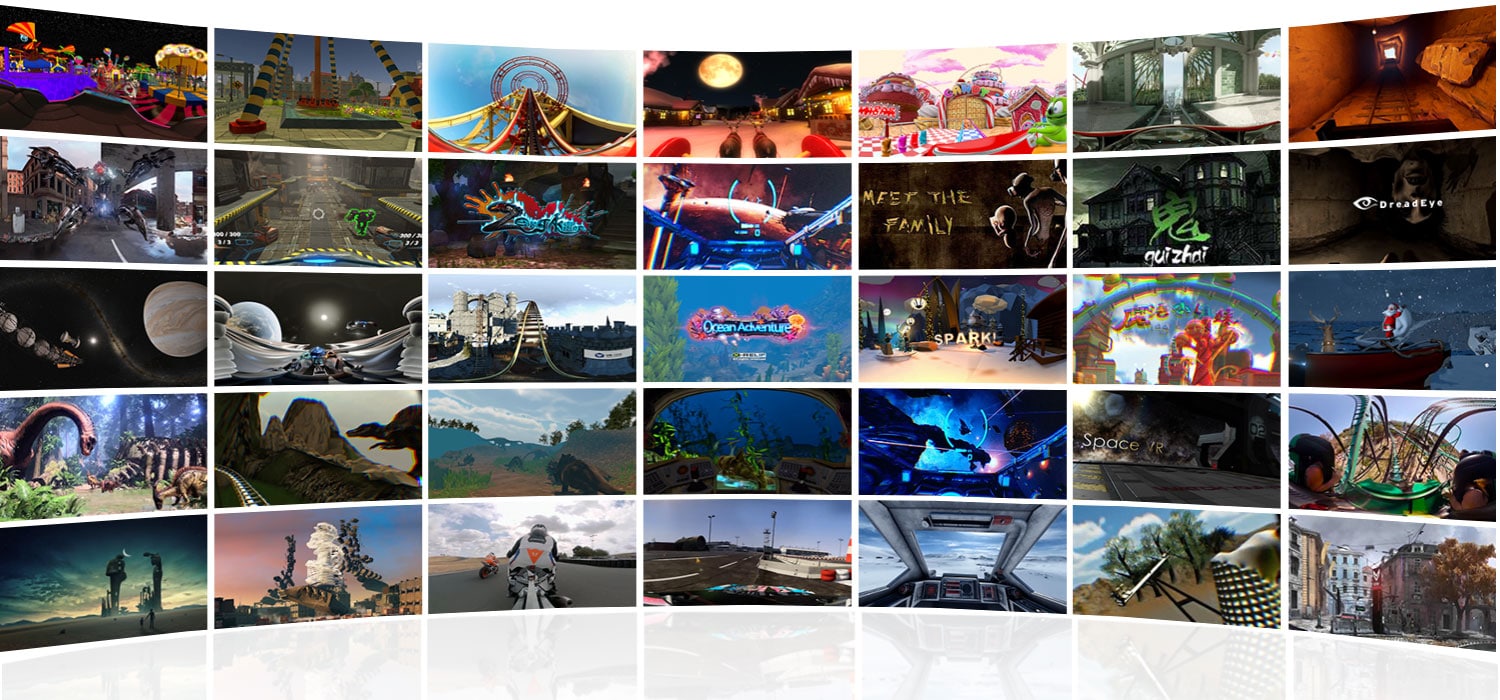 Gallery of 9D VR Together Cinema
Brand-new 3 seats 9D VR cinema
MODEL & PARAMETER
Check the following parameter list for a more complete overview of product details.
TECHNICAL DATA

TECHNICAL DATA

Product name

VR Together (3 Seats)

Model

OL 1003

Person

3

Voltage / Power

110-240V | –

VR headset

3Glasses D4 /  DPVR E3 ( 2K )

Game quantity

108pcs

Playing time

2-5 mins

Weight

NW: – kgs | GW: – kgs

Product Size ( LXWXH )

215 X 130 X 200 cm

List of goods

3 X VR Headsets
1 X 3 Seats Dynamic Platform
1 X Air Compressor
1 X Coin System
1 X 22″ Touch Screen Control Panel

Computer configuration

CPU : i5-6400-Intel
Graphic card :1050 – ZOTAC
Main board: H110M-GIGABYTE
Hard disk :SSD 240G -GALAX
Memory card : 8GB DDR4
Send Inquiry Now
Free free to send us your question, we'll contact you in 24hrs (Working Days)! Please Double check your message!
WHAT IS OWATCH & HOW THEY WORK?
Owatch was established in Guangzhou, China in 2014, which is the leading manufacturer & supplier for VR simulators, Racing Simulators & 5D Cinema…