What is VR Arcade Machine / Virtual Reality Standing Platform?
VR Business Multifunctional Standing Platform
NEW trend self-services solution VR Game Machine for commercial VR Business. A Simple, Lightweight, Easy to use, Compatible, Self-service, Economical and Affordable VR Standing Platform, Multi-purpose: Games, Applications, Education, Advertising Display, etc.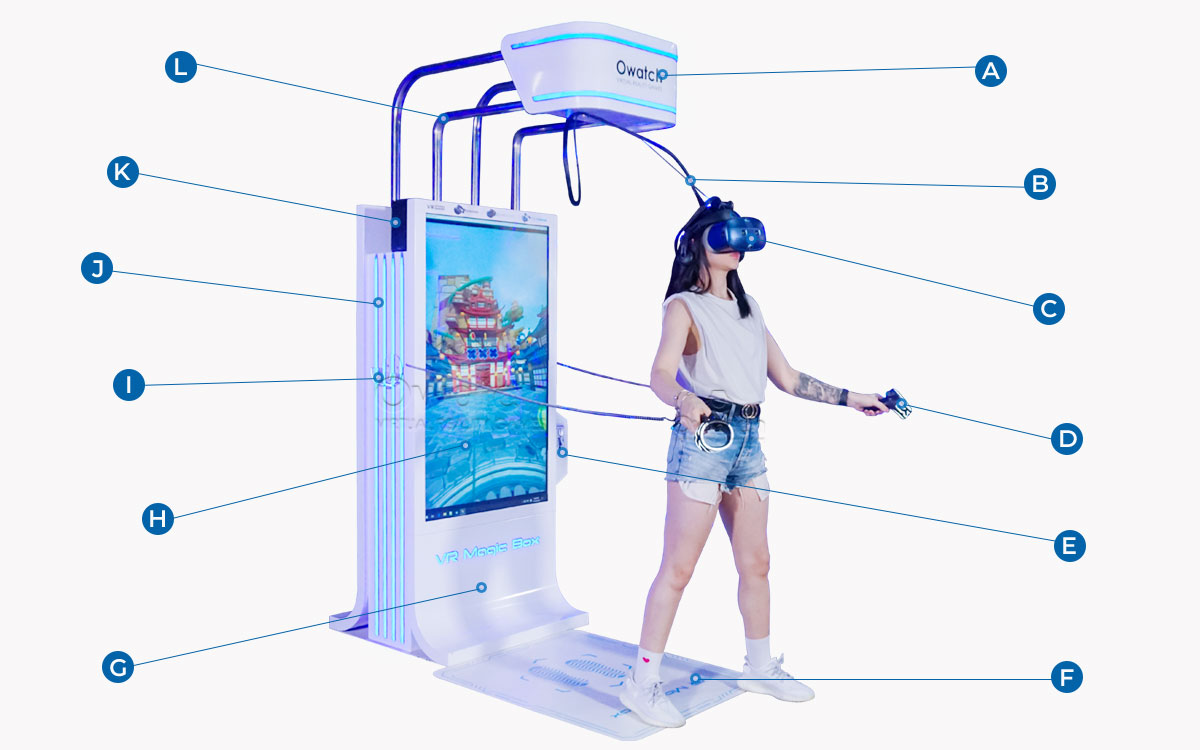 | | | | | | |
| --- | --- | --- | --- | --- | --- |
| A: Logo Area | B: Automatic Lifting System | C: HTC VIVE COSMOS | D: Control Handle | E: Coin System | F: Carpet |
| G: Metal Baking Process Design | H: 55-inch Display | I: Handle Placement | J: LED Light | K: Stereo Speakers | L:Metal Bracket |
How To Play?
After coin or credit card, the VR Headset will automatically lower, bring the helmet to the gamepad, use the controller to select the game you want to play, after the game is over, the headset will automatically rise to the top of the machine.
NEW Trend Self-services VR Arcade Features
Unlimited space, free competition. The open design captures the eyes of tourists in all directions and brings an unprecedented immersive experience.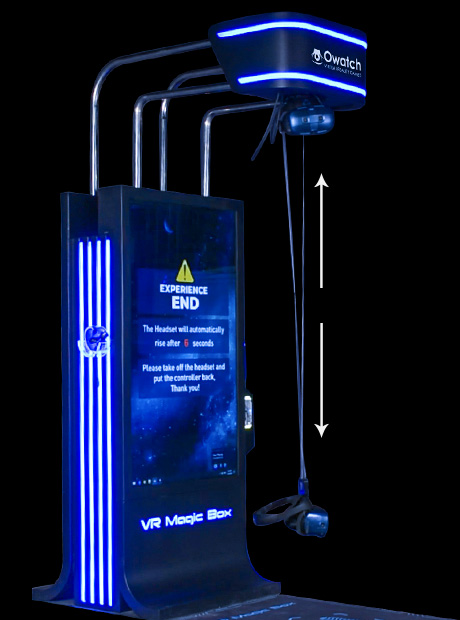 Automatic Lifting VR Helmet System
VR Magic Box is a highly secured and more flexible automatic machine,Used the Voice prompt self-service solution with easy operation, no need staff. to operate.Automatic Lifting VR Helmet, Avoid malicious damage to the helmet.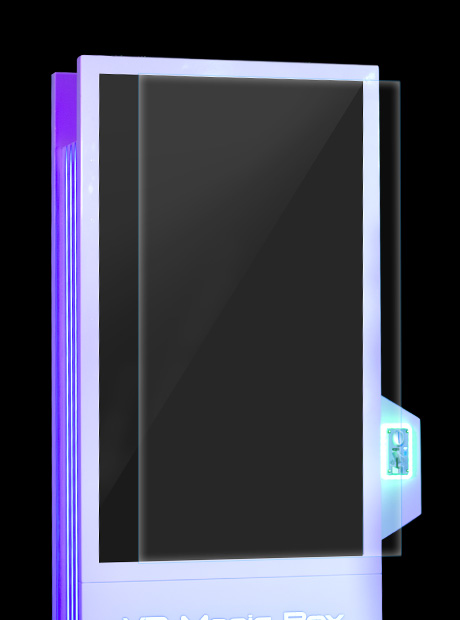 55-Inch Large Display
Tempered Glass Protective Film, Large display brings an unprecedented Immersive Experience, Content Show TV Synchronously, Content show on TV when experiencing, Attract passing customers, Available to put customized advertisement video, Important tool.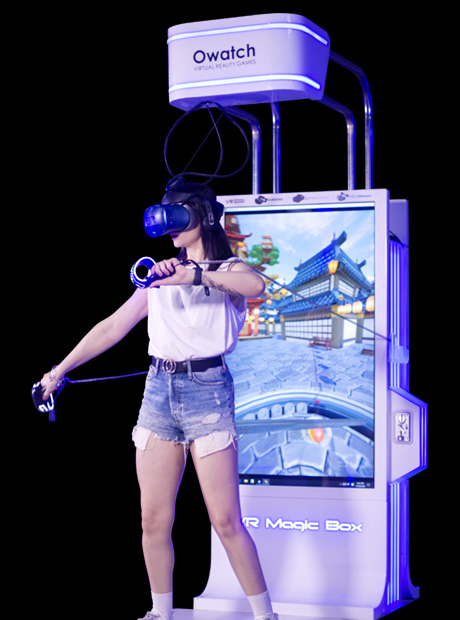 Controller with Anti-theft Charging Wire
Use the stretchable wires connecting device, when players move, the wires of controller can be stretch at will. Avoid losing & maliciously damaging the gamepad, and charge it at any time to ensure that the controller is fully charged.
High Configuration HTC VIVE COSMOS Headset
Six camera sensors and the latest software optimisations enhance inside-out tracking accuracy. Supports a wide field of view (FOV) and six-degree-of-freedom (6DoF) for greater freedom of movement.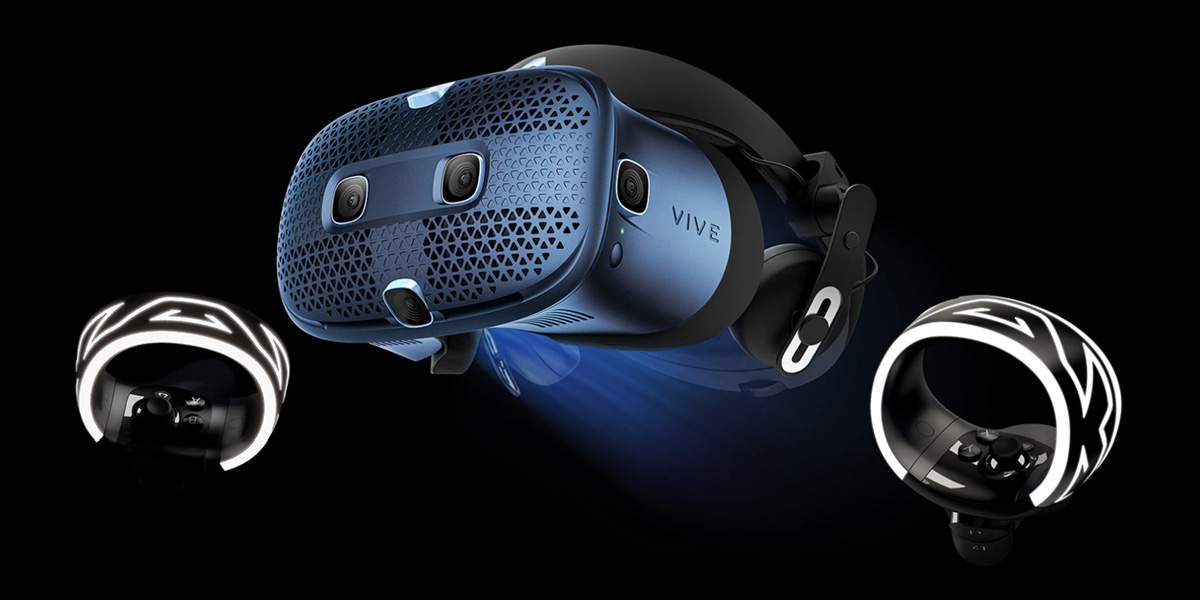 Refined Inside-out Tracking
Use "VIVE COSMOS" Brand Headset Inside-out Tracking Solution (No Base Station needed for Positioning)
Eye-protective LCD Screen( 2880 x 1700 /90 Hz) / Flip-up Design Goggle can be flipped for 90º / Seamlessly swap between virtual & physical reality / All-new VIVE Controls, Ensures accurate tracking / Ergonomic & Adjustable head strap Design
All Free Professional VR Games From Steam VR
This 
VR machine
product realistic cool styling attract the public eye.The game involves,Fancy Skiing VR, Fruit Ninja, Mercenary, Armed Against the Undead, Star Rage VR, ZombiTown, VR Baseball, other fun contents. There are different theme of movies for your choose, adventure, cartoon,horror, war, culture ect to suite all kind of customers.
Flexible, Convenient & Multipurpose VR Machine
The self-service VR platform is simple to operate and has a wide range of uses, covering multiple fields such as games, theaters, and popular science. Small footprint, low investment, quick return!
Gallery of Self-service Solution VR Magic Box
Immersive VR Experience, low investment, high income, start your VR Career
MODEL & PARAMETER
VR Magic Box for sale, Check the following parameter list for a more complete overview of product details.
TECHNICAL DATA

SPECIFICS

Product name

VR Magic Box

Model

OA 1003

Person

1

Voltage / Power

110-240 V | 800W

VR headset

HTC VIVE COSMOS

VR Games/Movies

 20pcs

Playing time

3-8 mins

Weight

NW: 130kgs | GW: 230kgs

Packing Size ( LXWXH )

119 X 119 X 208 cm

List of goods

1 X VR Headsets
1 X Whole Platform with
55 Inch Display Screen & Coin System

Computer configuration

CPU: i5-6500- Intel USA
Graphic card:GTX1660 – GALAX
Main board: H110M-GIGABYTE Taiwan
Hard disk : SSD 240G -GALAX Hongkong
Memory card : 8GB DDR4
Send Inquiry Now
Free free to send us your question, we'll contact you in 24hrs (Working Days)! Please Double check your message!
WHAT IS OWATCH & HOW THEY WORK?
Owatch was established in Guangzhou, China in 2014, which is the leading manufacturer & supplier for VR simulators, Racing Simulators & 5D Cinema…