5D Cinema
Regular Cinema 6-DOF
Full-featured, Multimedia Motion Movie Solution, Movie-like Life Experience
Professional & Effective Motion 5D Cinema Solution from Owatch
Owatch 5D Cinema / Interactive Cinema Simulator
Standardized 5D Dynamic Cinema System from Owatch
From hearing, sight to smell, touch to immersive adventure, the environment is full of special effects! Create an environment consistent with the content of the film, with immersive and thrilling effects.
Most Popular 5D Cinema in the market! Branding Choice!
5D Motion Interactive Cinema Composition
The motion cinema system consists of professional-grade, powerful stereo projection, screen, 5D seats, environmental effects, digital audio, and theater total control system. Compared with other types of theaters, it has the characteristics and advantages of outstanding theme, high technology content, realistic effect and strong entertainment.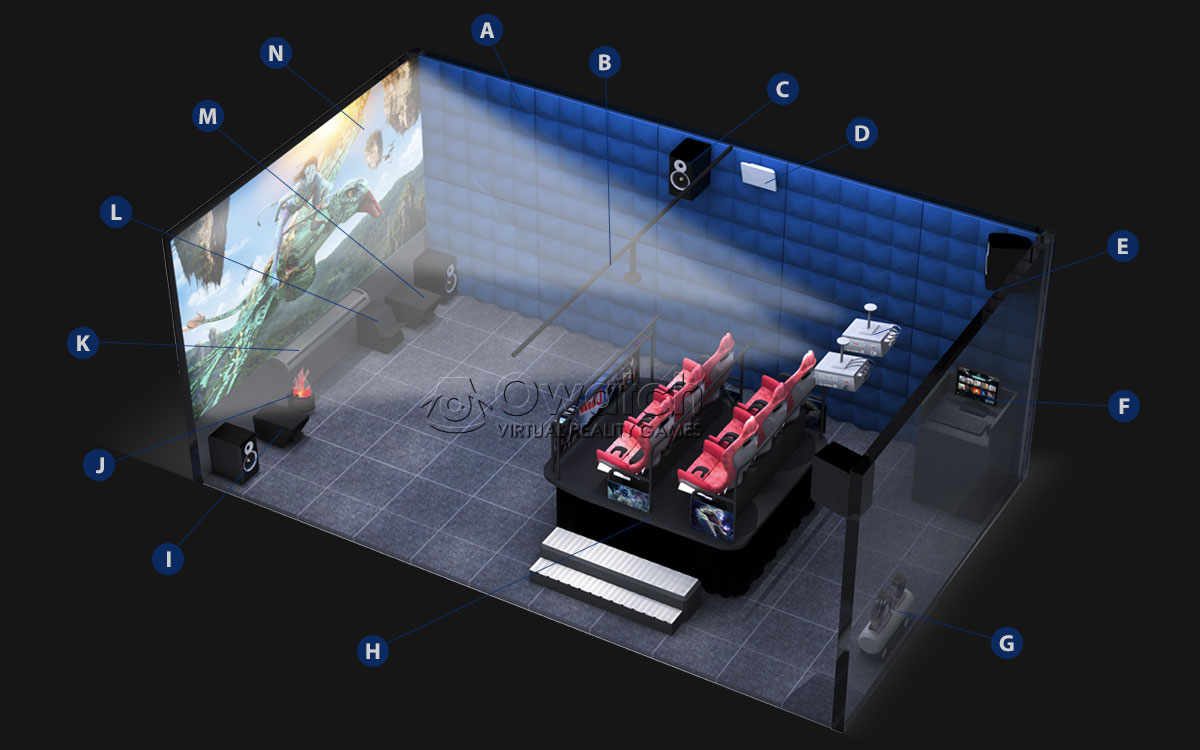 | | | | | | | |
| --- | --- | --- | --- | --- | --- | --- |
| A: Soundproof Decoration | B: Rain | C: Speaker | D: Strobe | E: Projector | F: Computer | G: Air Compressor |
| H: 6-DOF Motion Platform | I: Smoke | J: Fire | K: Wind | L: Bubble | M: Snow | N: Projection Screen |
Rich Seat Dynamics & Special Environmental Effects
According to the content of the film, various realistic physical effects, environmental effects, etc. can be added, which can create rain, wind, snow, smoke, lightning and other feelings like in the real movie world, and various Seat dynamics, this series of movie plots can be simulated and fully synchronized!
Scared & Uncomfortable
Make the audience feel on the back of the suddenly "Uninterrupted beat the back"
Enhance Sense of Reality
The seat of the violent vibration makes people feel more immersive
Screaming & Frightened
Suddenly pat the legs back and forth, have intense "Scared" feeling
3-D Movement
Cover different directions Up & down, left & right, tumbling action front & back
Thrilling & Scared
Water spray suddenly came out from the front
Thrilling & Exciting
Simulate the sudden jet of air in the film, player feel more real
Simulate snowy weather
Snow fluttering makes players feel more realistic
Imitating rainy weather
Players can truly feel the rain falling from the sky
Simulate lightning weather
Make the audience feel like they are in a thunderstorm
Render the atmosphere
Generated bubbles fills the air of the reality, more immersive
Simulation of the combustion flame
The audience to enjoy a more immersive
More Realistic Environment
Wind suddenly blows from the front, making it more exciting
Simulated burning smoke
Simulated mist curls between clouds Piaowu in the audience.
Fragrance of flowers
Can be customized according to customer needs
Interactive For Game
Shoot the monster in the game with a gun
5D Interactive Motion Theater Solution, 5D Motion Ride Dynamic Chair System
5D Motion Cinema Solution Structure Diamgram-6DOF
5D motion theater and 4D games use the same working principle, using a professional 3D development engine, with 3D stereo TV, projector and other display devices, stereo glasses and other receiving devices, through two images with a certain visual difference (ie, simulating the human body) The combination of the images created by the stereoscopic imaging function of the two eyes shows a strong interactive effect in the process of participation of the viewer or the player.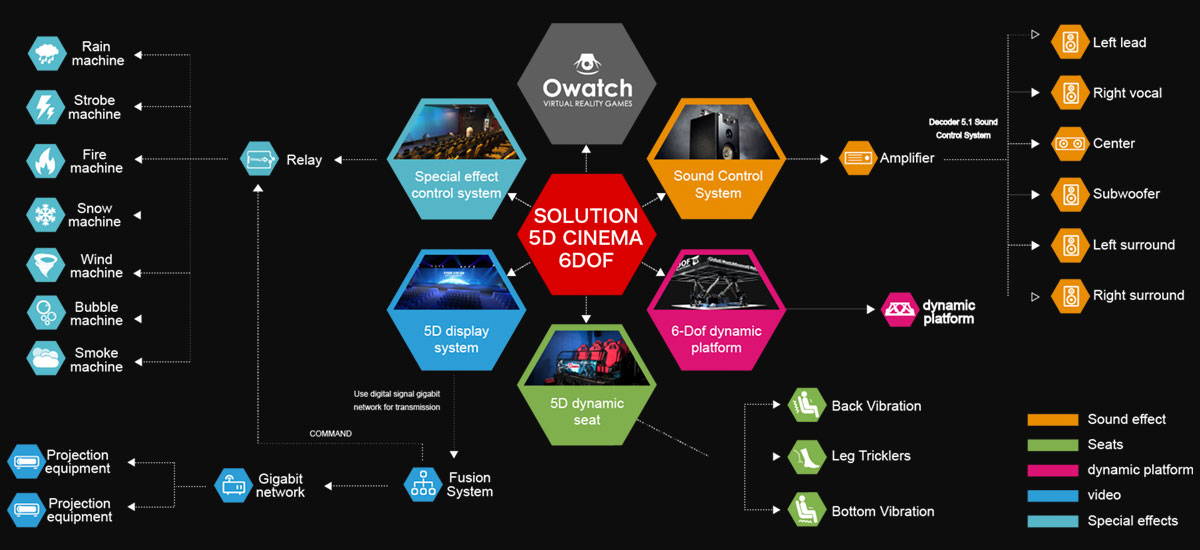 Global Advanced Electric Motion Platform,
Enhance the Game/Movies Experience Greatly!
What's 6-Dof ? 6 degrees of freedom (6-DOF) refers to the specific number of axes that a rigid body is able to freely move in three-dimensional space. It defines the number of independent parameters that define the configuration of a mechanical system.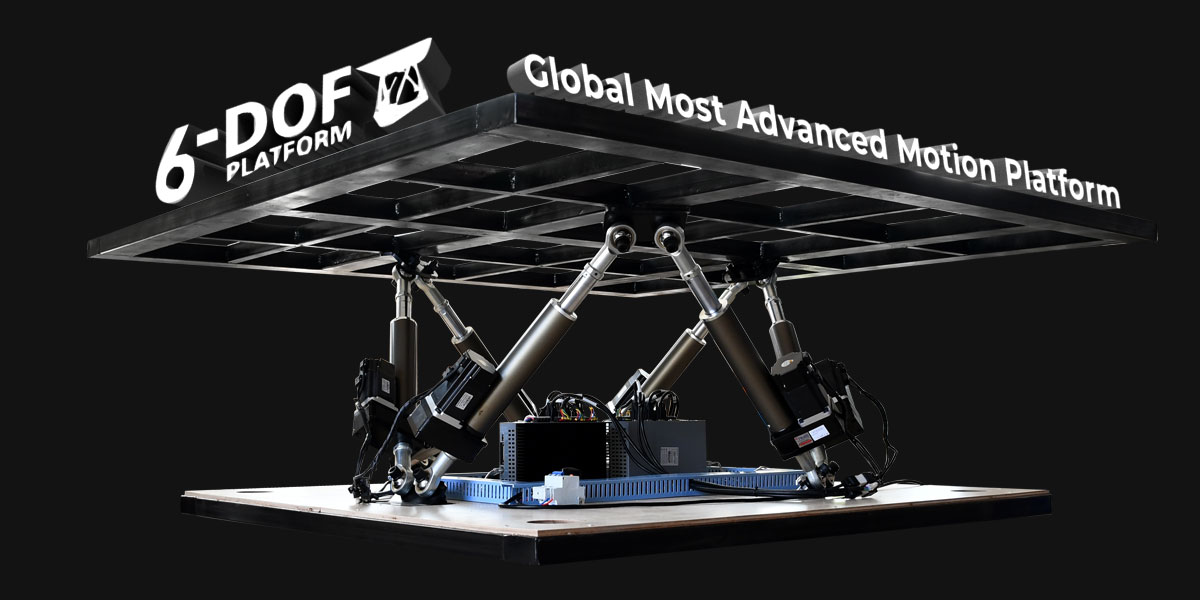 ADVANTAGES of 6-DOF
High-fidelity simulation of dynamic visual simulation platform with the high-performance docking / Precision positioning: Payload of 0.5 tons -50 tons, position control accuracy of 0.02mm / Higher response time / Faster acceleration / Greater movement range.
More than 100 Movie Games with Story Lines
We have 4 unique interactive shooting movie games, as well as more than 100 3D game resources and movie content. They have different game methods, covering players of different types, ages and interests! And will update the movie regularly.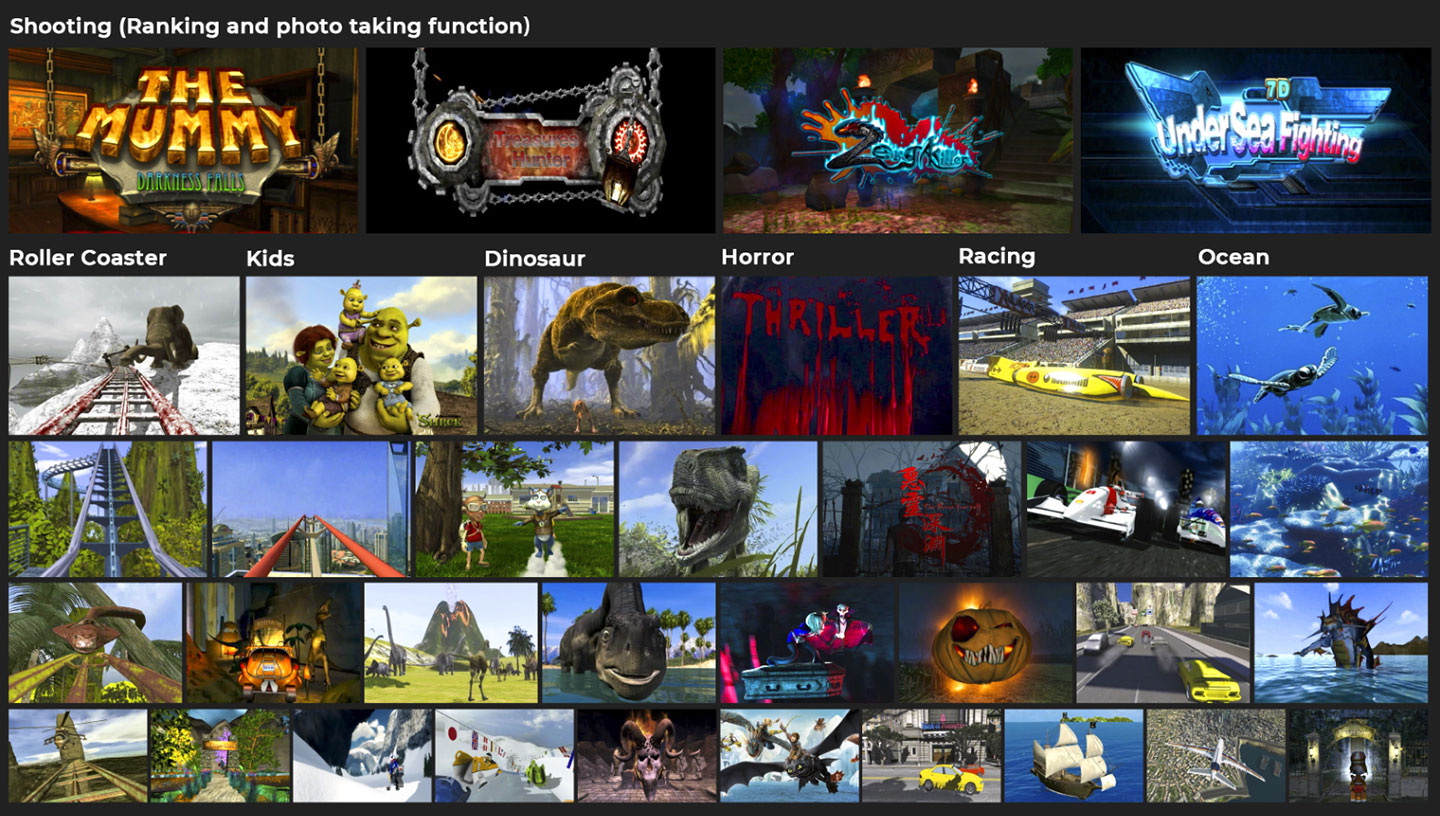 Gallery of 5D Motion Cinema & Successful Cases-6DOF
Specializing in cinemas, professional brand custom major theaters, brand-class cinema equipment. Provide you with cinema equipment manufacturer, installation, commissioning and construction integration service.
MODEL & PARAMETER
Check the following parameter list for a more complete overview of product details.
Send Inquiry Now
Free free to send us your question, we'll contact you in 24hrs (Working Days)! Please Double check your message!
WHAT IS OWATCH & HOW THEY WORK?
Owatch was established in Guangzhou, China in 2014, which is the leading manufacturer & supplier for VR simulators, Racing Simulators & 5D Cinema…