Warmly Welcome to Visit Our Company – Owatch™
China has steadfastly maintained some of the world's strictest COVID-19 restrictions since the start of the pandemic, imposing regular testing, lockdowns, quarantines and contact tracing for nearly three years. On Friday, November 11, 2022, China announced that some of these restrictions were finally being eased. Tourists intending to travel to China hope this time will be a crucial step in reopening the country to international tourists.
According to the WeChat official account "Consular Express" of the Department of Consular Affairs of the Ministry of Foreign Affairs, in order to further facilitate the exchange of Chinese and foreign personnel, it has been decided to make the following adjustments to the visa and entry policies for foreigners in China from 0:00 on March 15, 2023, Beijing time:
1. The entry function of visas issued before March 28, 2020 and still within the validity period will be resumed.
2. The visa agencies stationed abroad resume the review and issuance of various types of visas for foreigners to go to China.
3. Port visa agencies resume reviewing and issuing various port visas that meet statutory reasons.
4. Reinstate the policies of visa-free entry to Hainan, visa-free entry to Shanghai cruise ships, visa-free entry to Guangdong by groups of foreigners from Hong Kong and Macau, and visa-free entry to Guilin by ASEAN tourist groups.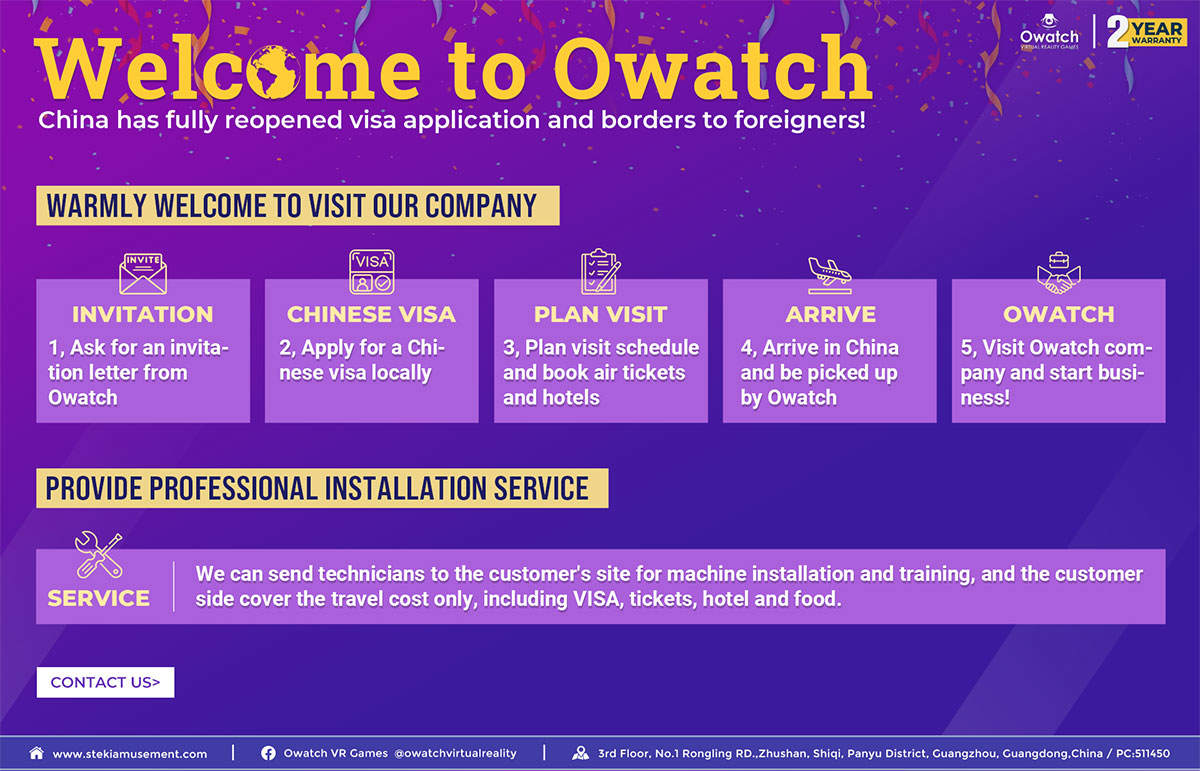 The "First Owatch Triple-2 VR Equipment Shopping Festival" discount event has entered the countdown. Before March 22, all customers can get a 15% off discount regardless of the purchase amount, and an extra 5% off for orders above 50,000 US dollars and the company's on-site transactions (that is, 20% off discount).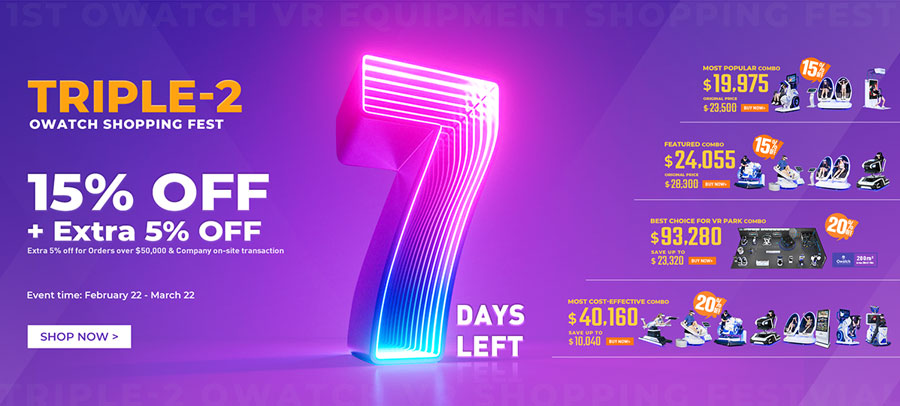 Believe me, you will be pleasantly surprised by the first VR Triple-2 Shopping Festival. There are still 7 days left, are you ready? Book now or grab it now! More than 30+ Virtual Reality Equipment / VR Simulator are waiting for you!
For more event information or product details, please contact our sales staff!
SEND US A MESSAGE NOW
Leave your details below and one of our sales team will get in contact with you as soon as possible