VR Escape Room
VR Multiplayer Interactive Game, HTC Matrix Space
Horror adventure, Crack the mystery of the secret room!
Factory Price Virtual Reality Movie Cinema Equipment, 9D VR Simulator
360° Full Vision & Immersive Experience
In the secret room, VR multiplayer connected fighting zombie games, escape games and exciting virtual reality feelings together, equipped with a space displacement and motion recognition system, bring players to the real battlefield.
ARVE Error: Mode: lazyload not available (ARVE Pro not active?), switching to normal mode

Super Trilling & Exciting
In the horrible secret, looking for a way out, there are ghosts jumping in the occasional room, which makes you feel. or seems to be in the doomsday zombie themed world, fighting the zombies monster, making you feel like a super warrior!
Virtual Reality Arcade Game Machine Escape Room Deaths VR Rooms From Owatch
What's VR Game Machine Escape Room?
VR Escape Room is based on the experience of the store's secret room escape through VR technology. The gameplay is as intuitive as the experience room escape, so it's easy to get started. It is a game with outstanding revenue performance.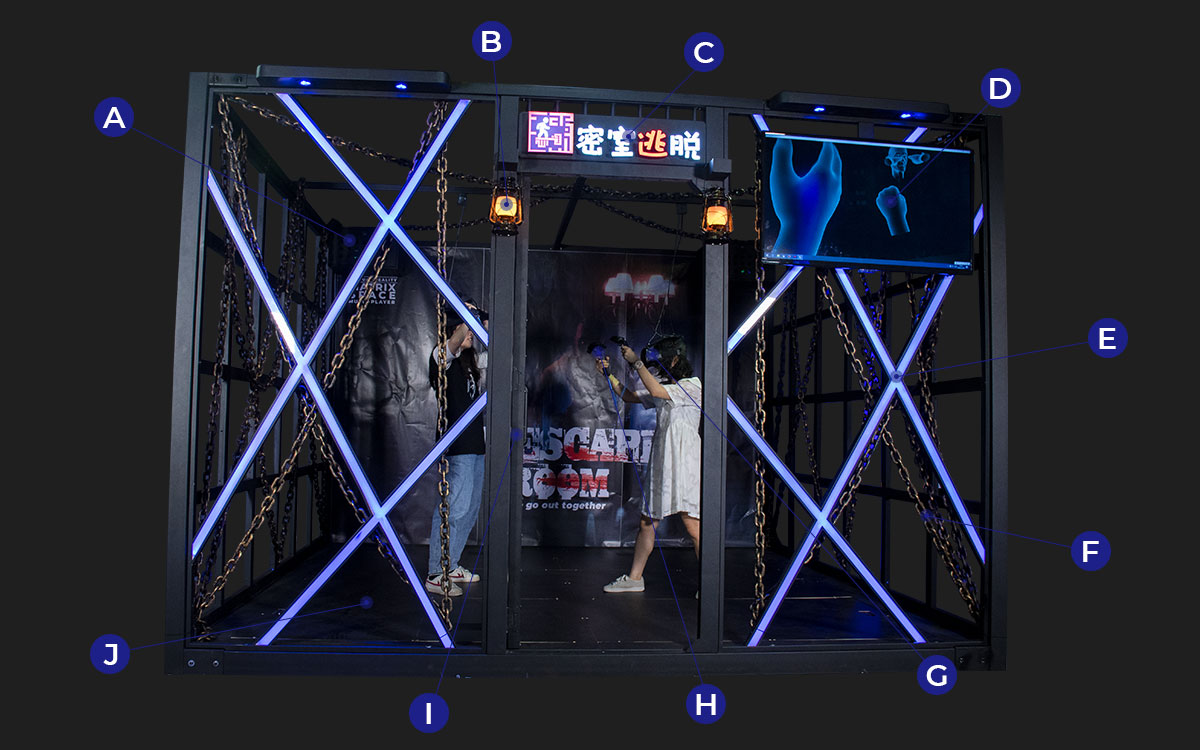 | | | | | |
| --- | --- | --- | --- | --- |
| A: Host Computer | B: Simulation Props Lights | C: Product Name | D: 42-inch HD Display | E: LED Light |
| F: Simulation Iron Chain | G: HTC VIVE Glasses | H: Game Joystick | I: Wooden Door | J: Vibrating Floor |
MULTIPLE SECRET ROOM LEVELS
THRILLING & EXCITING
DO YOU DARE TO CHALLENGE!
VISION
High Precision Game Modeling, 1:1 Game Scene Design to make the "real" Effect
Interactive
Multiple VR systems such as tracing, moving, interacting etc. 2 players should cooperate and then escape from the room
HEARING
Shocking background music, sound effects of various monsters, scary sound effects
A Game that Challenges Your Mental Limits!
In the abandoned castle, there are secret rooms of many institutions, the expedition to find clues to escape from the secret rooms, there are also the thrills of fighting with zombies in various scenes, and the excitement of following the team to adventure…
What's New VR Escape Room 9d vr one stop easy operation?
9D Virtual Reality Escape Room Features
The enclosed iron cage structure, wear VR glasses, and feel the horror secret room with a 360° realistic perspective! How many mysteries are hidden in the secret room? It is up to you to uncover its mystery!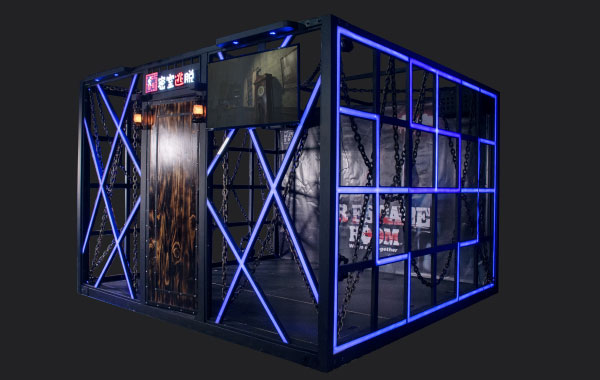 Closed Iron Cage Design
Mysterious, Dangerous, Thrilling and challenging, and bring exciting situational experience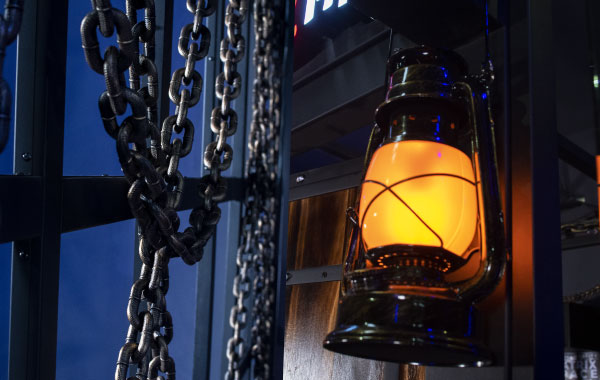 Simulation Props Layout
Simulation of iron chains and oil lamps, creating a horrible game atmosphere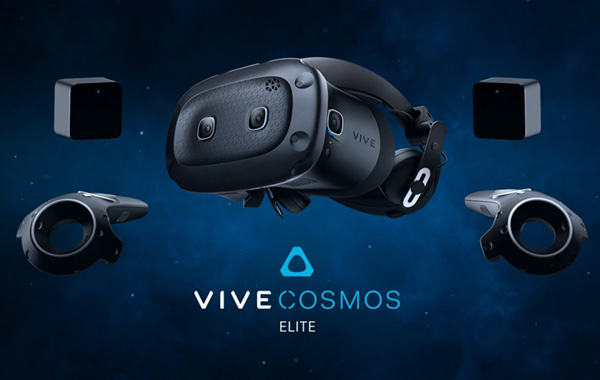 Famous Brand VR Glasses
HTC VIVE COSMOS ELITE VR Headset all new version, Ultimate audio visual enjoyment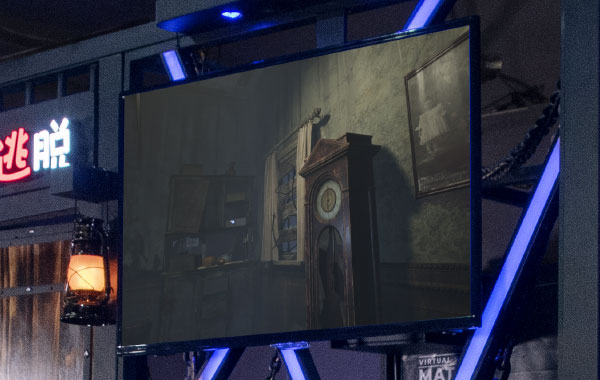 TV Synchronous Display
Equipment 42″HD TV, Synchronously show one players' vision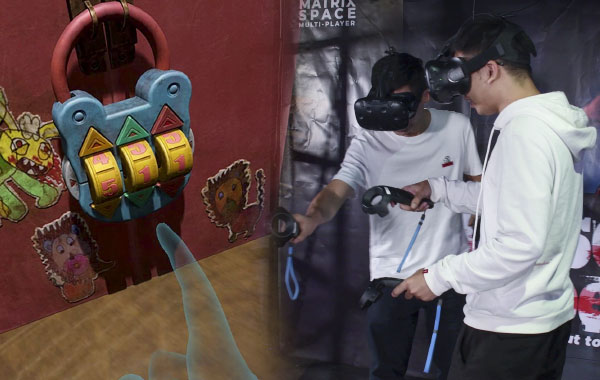 High Interactive
Search find, Moving, turn around, just like you're in the real Virtual Game scene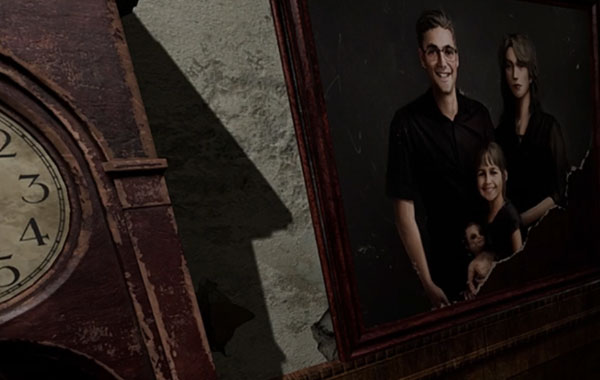 1:1 Game Scene
Game scenes to the real scenes 1:1,let the player get the immersive tension & exciting experience
Gallery of VR Escape Room Multiplayer Interactive Games
The most popular virtual reality simulator on the market!
MODEL & PARAMETER
Check the following parameter list for a more complete overview of product details.
TECHNICAL DATA

SPECIFICS

Product name

VR Escape Room

Model

OE 1001

Person

2

Voltage / Power

110-240V  | 500-1500W

VR headset

HTC VIVE COSMOS ELITE

Movie quantity

4pcs(1pcs escape game + 3pcs shooting games)

Playing time

10-15 mins

Weight

NW: 600 kgs | GW: 800 kgs

Product Size ( LXWXH )

375 X 375 X 260 cm

List of goods

2 X HTC VIVE
1 X Whole Platform(with PC+42″ Display)
1 X 21″ Monitor
Send Inquiry Now
Free free to send us your question, we'll contact you in 24hrs (Working Days)! Please Double check your message!
WHAT IS OWATCH & HOW THEY WORK?
Owatch was established in Guangzhou, China in 2014, which is the leading manufacturer & supplier for VR simulators, Racing Simulators & 5D Cinema…