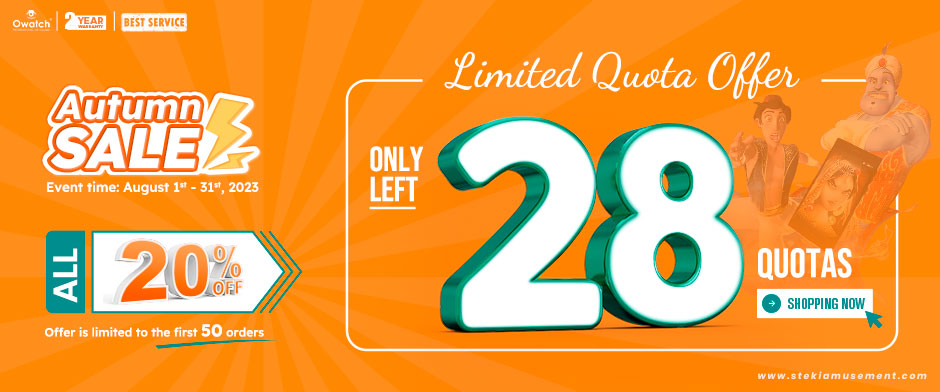 In order to support customers to prepare for the business in the second half of the year and next year, Owatch held a big autumn promotion in August, with a 20% discount on the whole site, and you can buy more and save more. The discount is limited to the first 50 orders, and there are only 28 places left, come and buy it.
Wholesale High-Quality VR Cinema Price Products from Owatch / Virtual Reality Business Simulator Price Virtual reality for sale
Owatch: Worldwide Shipping! Stock Sale! Professional Virtual Reality Price Rides & VR Game Machine Suppliers Factory. Export to over 95 countries which covering more than 980 cities & more than 830 clients and partners: USA, Mexico , Panama, Dominica, Cuba, Brazil, Colombia, Guatemala, Australia, Turkey, Egypt, Dubai, Germany, Serbia, Hungary, Italy , France, Luxembourg, Russia, Poland, UK, Ireland, India, Malaysia, Singapore, Philippines, Armenia, Azerbaijan, Algeria, Libya, Kenya, Nigeria, Cameroon, Zambia, Reunion, South Africa, Mauritania,ect…
High quality with 24 months super Warranty & maintenance tech support for whole life!
Contact our salesman now to receive the VIP & KA price, Distributor pricing!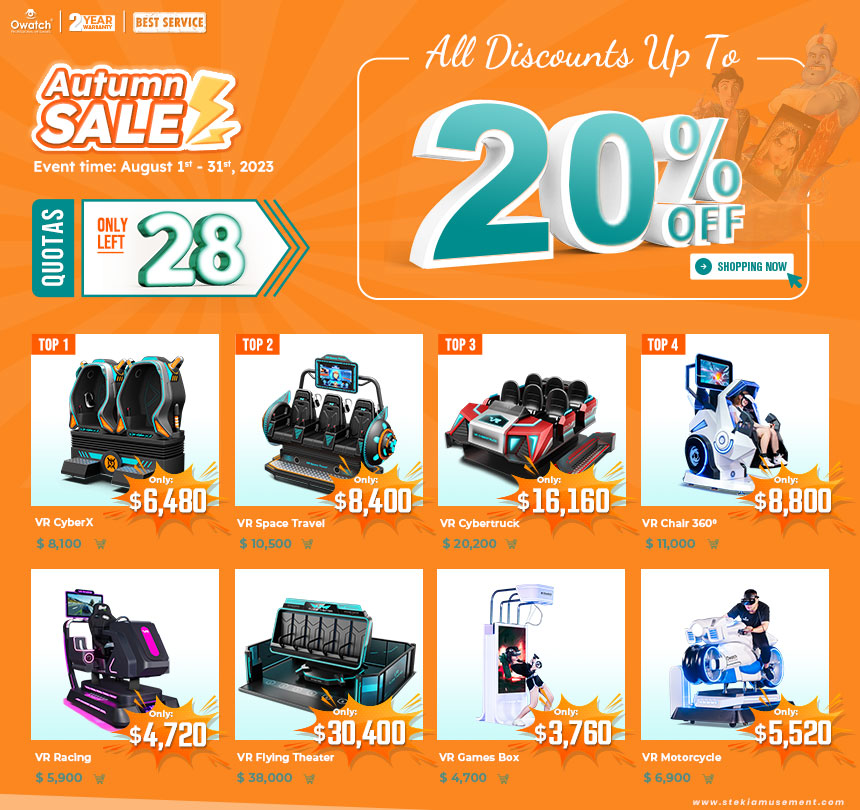 A 100% High-profit VR Business!!!
Big Promotion of Owatch VR Business Simulator

Name
Model
Price
Promotion Price
VR CyberX 2 Seats
VRC001
$8,100
$6,480
VR Space Travel 3 Seats
VRS001
$10,500
$8,400
VR Cybertruck 6 Seats
VRC002
$20,200
$16,160
VR Chair 360
OF3001
$11,000
$8,800
VR Racing Simulator
VRR1001
$5,900
$4,720
VR Flying Theater 6 Seats
VRF1001
$38,000
$30,400
VR Games Box
OA1003
$4,700
$3,760
VR Motorcycle
OC1001
$6,900
$5,520
Order and Save Now! [Only some of the best-selling products are listed]
Remark: As the electronic product is updated quickly, the machine's configuration may change, and the price also fluctuates. Please pay attention to the updating or contact us for the latest offer.
Owatch: China professional Virtual Reality Game machine manufacturer and supplier. Worldwide Shipping! Most models have Stock! Fast shipping, China Factory Price, High quality with 2-year Warranty!
Tips: The price is only for reference, it may be changed without notice! If you have any interesting with our products, please email to sale01@stekiamusement.com
Download our latest catalog >> Owatch VR Theme Park Catalog
Get the full price list now!
---