There's many kinds of VR Equipment inside, such as VR Chair, VR walker, VR Racing, VR Fly Simulator, VR Shooting Arena, AR Racing, Driving Simulator… no need to go to amusement park then you could enjoy all kinds real experiences here, such as large pendulum, roller coaster, drive, shoot, music, basketball, painting, flight…this is Virtual Reality Theme Park, the new way of entertainment that you never try.
VR Theme Park virtual reality amusement park is the most popular concept of VR nowadays. It's suitable for the shopping mall, amusement park, science museum, game center, theme park, water park, ect. It can be customized to different size, from 20 square to 1000 square meter. Owatch can offer the whole solution base on customer demand, from space design to VR product selection, until after-sale service. VR Theme Park is popular to both kids, adults, and even elder people, aim to give different experience to all people.
From the day of VR born, we began to study how to make the VR into commercial model, which people can spend a little money then can enjoy the new high-tech experience of VR and the operators can work and run the business easily, now it's successful and Owatch commercial solution is available……
Easy To Start Your VR Business by Owatch VR Commercial Solution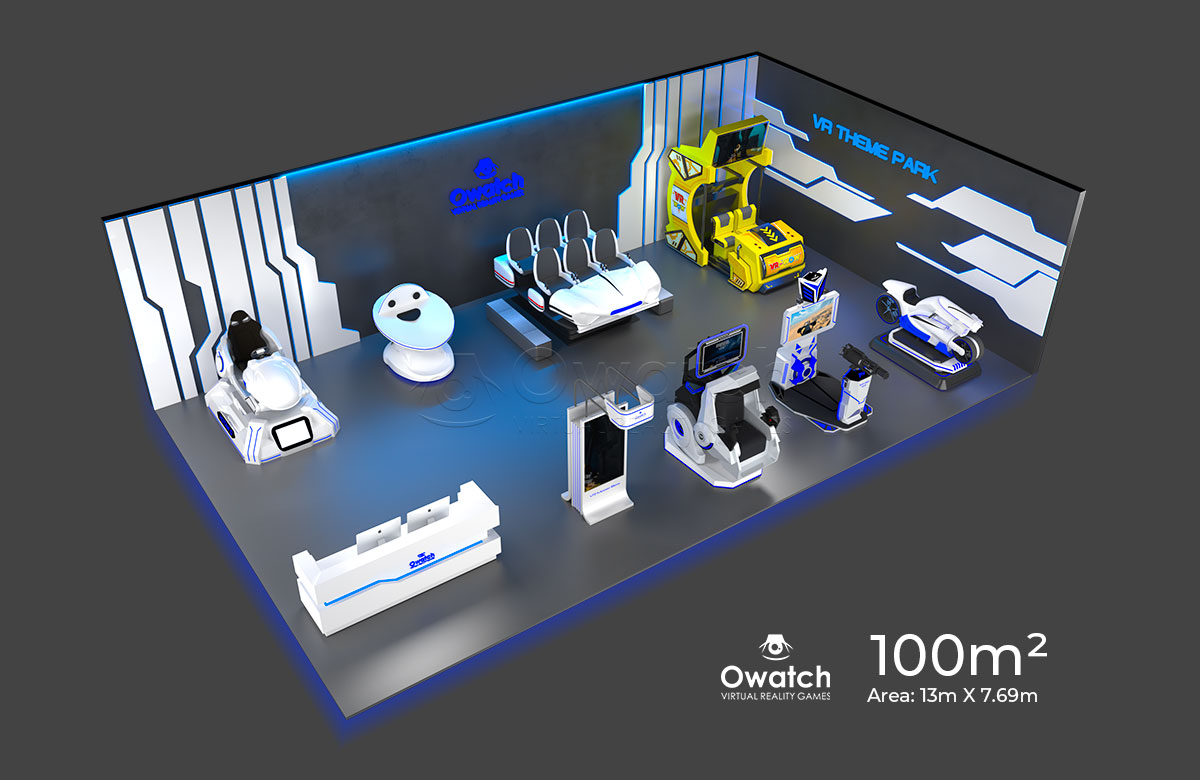 Hot sale product for VR Theme Park/ Virtual Reality Park
1. VR Motorcycle
Owatch VR Motorcycle Simulator makes players feel real motorcycle driving experience with a high-tech virtual reality system. You only need to put on the VR Helmet to start the game easily, When the games start, you can feel the speed of the motorbike, the strong vibration of motor simulator and feel HD 360 degree vision. This is a new simulated equipment for motorcycle, which will let you Immersive and can't stop.
2. VR Machine Gun
VR Gatling Shooting uses the classic war weapon Gatling gun as the prototype to create the most war-torn virtual reality experience device. Combined with the excellent space positioning function of the HTC Vive VR headset, the player can get into character in one second, Fully immersive experience of gun shooting, the users can get thrilling and exciting.
3. VR Chair 360° / VR Roller Coaster Simulator
Owatch 360° VR Motion Chair is a virtual reality roller coaster simulator, the seat can be flipped 360 degrees vertically, highly matched roller coaster games, which makes the experience more realistic and more safe. It overcomes the movement limited of electric cylinder platform and rotate 360 degree smoothly without any pause and noise, action delay within, almost matches the action in any virtual reality scene 100%, to reduce the feeling of dizziness, at the same time brings people real feeling of weightless like you are tying real roller coaster, really an wonderful experience.
4. VR Magic Box / Self-Services VR Standing Platform
NEW trend self-services solution VR Game Machine for commercial VR Business. A Simple, Lightweight, Easy to use, Compatible, Self-service, Economical and Affordable VR Standing Platform, Multi-purpose: Games, Applications, Education, Advertising Display, and even subway stations, etc… VR Arcade Machine is characterized by its ease of use and direct payment scanning experience without the help of shop assistants.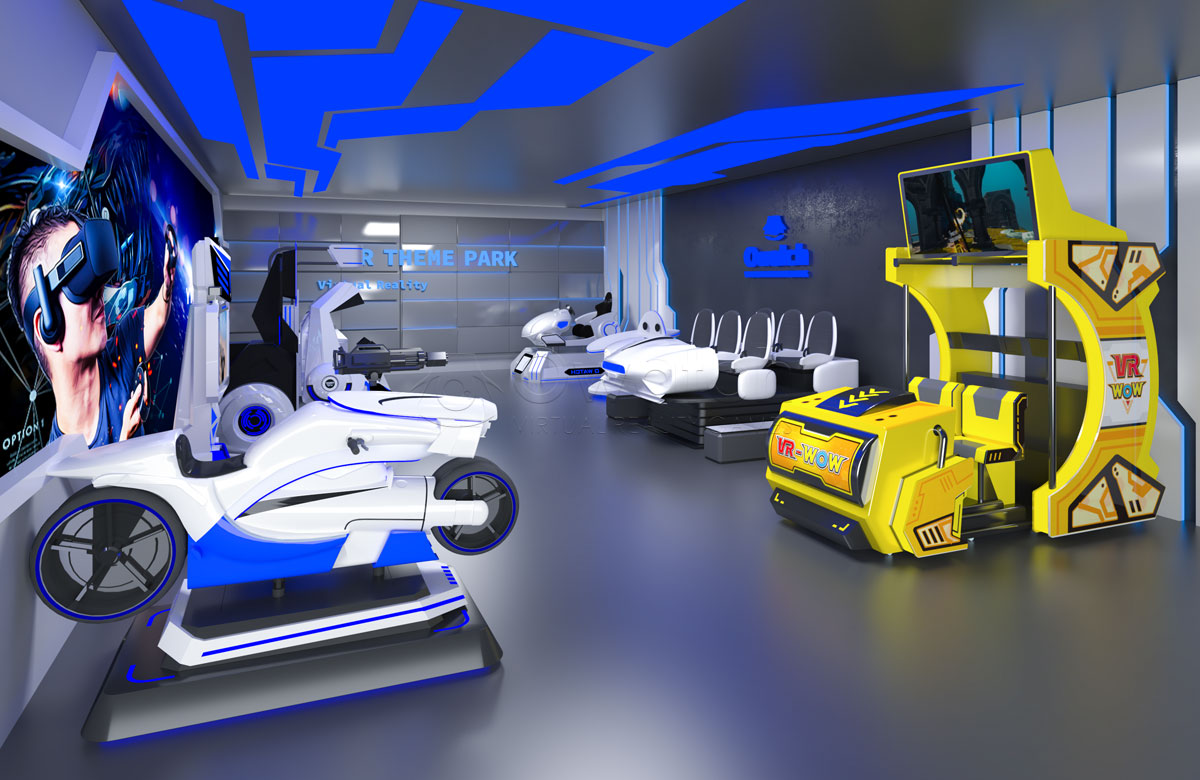 5. VR WOW / VR Arcade Game
Owatch's New Interactive VR Coin-op Simulator Ride, One-stop Arcade Self-service VR Experience Station. VR WOW is the industry's attendant-free VR attraction for arcades and FECs. One-stop self-service solution, no service staff, fully intelligent self-service. Just insert a coin or swipe a card to start the machine and start the game. Immersive and addictive, sit side by side with your friends and compete to get the highest score! Fun for everyone and easy to play, you'll crave for more rides to get through all levels and become the master!
6. VR Family (6 Seats)/ VR Cinema
VR Family Cinema support 6 players experience virtual world at the same time which is a high ROI product. It is very suitable for family or friends entertainments.6-Dof Platform ─ Global advanced electric motion platform, enhance the VR special game experience greatly to simulate various kinds of motion that is highly matched with the vr content! There are different kinds of vr content, such as: Big Pendulum, Children's, Roller Coaster, Thrilling, Racing, Shooting, Dinosaur, Adventure, others…Mass Movies & Games Contents and Continously Updating…
7. VR Slide
VR Slide: 360° Immersive Enjoyment, Encounter your biggest fear! Newest designed VR surf with Thrilling Experience, Virtual Reality Slide Experience makes you feel like you are travelling at 100 mph. Using the world's most advanced sports technology platform to experience unprecedented fun and immersive feeling gives you an unparalleled slide trip. with a small footprint and high return on investment!
8. VR Racing
Sell Well! Owatch Virtual Reality Racing Car. From the design to the game content, Simple technology design is more eye-catching and VR Racing provide multiple maps to satisfy the player's curiosity, 360° full vision immersive experience, Racing in the "real" street or space, Immersive fast & furious game, experience most interactive driving you never played!. Multiplayer mode and self-service mode, which brings unprecedented driving experience.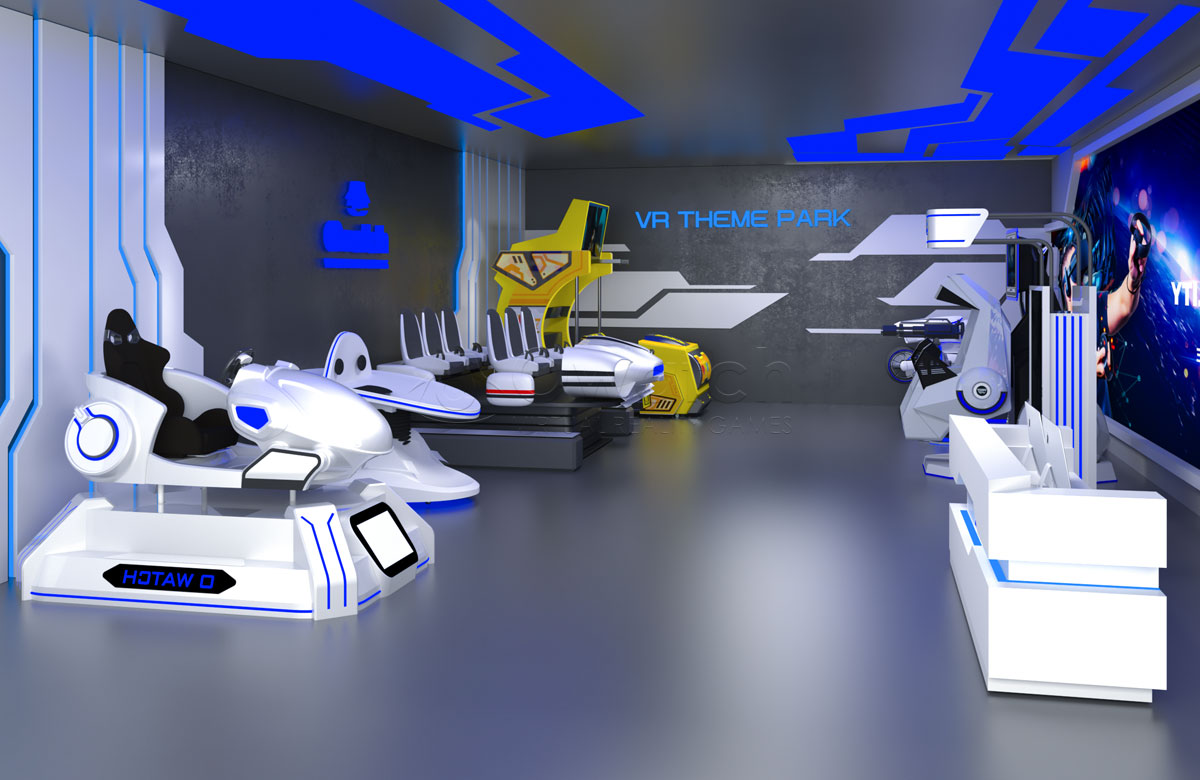 OUR ADVATAGES
Wide Product Range: We providing VR machines, arcade racing simulators and 5D cinema which covering more than 30 items.
Professional Product Design: From play way, functions, appearance, hardware, content to software, all designed & developed by us.
Top Quality Assurance: All accessories are branded and we act with ISO 9001 system which to ensure the product stability.
Efficient After-Sales Service: 7X24 Service Online. When problem happen, troubleshoot by wechat\whatsApp, replacements be sent by DHL or remote to fix for software issue.
Project Solution for Free: We provide whole solution which including the quote list, 2D/3D layout design & site decoration design for Virtual Gaming Center, VR park & cinema projects, free of charge.
Product Customization Service (OEM/ODM services):Any customize products or projects are both acceptable & welcome by Owatch.